Coral Triangle Day 2014
Start Date:
Mon, 09/06/2014 (All day)
End Date:
Mon, 09/06/2014 (All day)
Upload an image: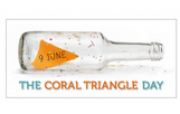 Place: Region-wide crowd-sourced event
Description: June 9 was officially recognized as the Coral Triangle Day at the 4th Coral Triangle Initiative Ministerial Meeting held in Putrajaya, Malaysia in November 2012. This has proven to be a critical impetus for national governments, local communities, private establishments, and individual supporters to take action on this special day and express their support for this region's valuable marine resources through varied activities around the Coral Triangle region.
Now on its third year, the Coral Triangle Day offers CTI-CFF and Coral Triangle Development Partners the opportunity to work together on a common regional platform and to reach out and enlist the support of mass audiences with one strong message.
This crowd-sourced event has also been an effective platform that strengthens the Coral Triangle brand as a globally-significant ecological complex and highlights the important partnerships working to protect this region through CTI-CFF
Contact: osope@cticff.org