CTI-CFF 6th MPA Regional Exchange and TWG Meeting
Start Date:
Mon, 12/09/2016 (All day)
End Date:
Fri, 16/09/2016 (All day)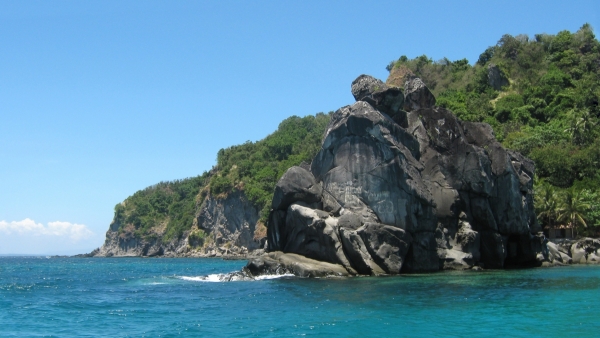 Apo Island at southeastern tip of Negros Island, one of the world's best known community-organized marine sanctuaries. (Photo: Wikipedia)
CTI-CFF 6th MPA Regional Exchange and TWG Meeting
When : 12-16 September 2016
Where : Dumaguete City, Philippines
The CTI-CFF Marine Protected Area (MPA) Working Group will hold the 6th MPA Regional Exchange (REX) and the 6th MPA Technical Working Group meeting on September 12-16, 2016 in Dumaguete City, Negros Oriental, Philippines. The REX will be hosted by the Government of the Philippines through its CTI-CFF National Coordinating Committee (NCC) in coordination with the CTI-CFF Regional Secretariat.
The overall theme for the 6th MPA REX will be "Sustainable Marine Tourism in the CTI-CFF MPAs" as a take-off from the 4th CTI-CFF Regional Business Forum held in August 2015 in Bali, Indonesia.
The Forum aimed to address the various issues that contribute to the degradation of the resources of the Region, including unsustainable tourism through:
Promotion of best practices for responsible marine and coastal tourism;
Promotion of the enabling conditions required to support private sector leadership and engagement in sustainable and responsible marine and coastal tourism in the CTI; and
Explore the branding and marketing of the CT as a global sustainable tourism destination.
This Workshop will attempt to introduce sustainable marine tourism in the CT Region. Moreover, the 5-day workshop is designed to:
Review the progress on the implementation of the CTMPAS Framework (CTMPAS nomination process, CT Atlas training, Recognition of CTMPAS Sites);
Review the implementation of the CT6 roadmap prepared during MPA REX 5;
Review the status of MPA Management Effectiveness Assessment Tools in the CT6;
Share concepts, knowledge and practices on Sustainable Tourism in MPAs that contribute to and build on the Coral Triangle MPA System;
Review the draft Terms of Reference of the CTI-CFF Marine Tourism Task Force;
Conduct a study tour to an MPA learning site on sustainable tourism in the Philippines; and
Develop the agenda for the 6th MPA TWG meeting.