Toolkit: Marine Protected Area Management Effectiveness Assessment Tool, February 2011
Document Date:
01 February 2011
Author:
Philippines CTI NCC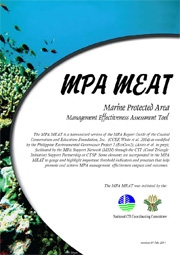 The MPA MEAT is a harmonized version of the MPA Report Guide of the Coastal Conservation and Education Foundation, Inc. (CCEF,White et al. 2004) as modified by the Philippine Environmental Governance Project 2 (EcoGov2), (Arceo et al. in prep), facilitated by the MPA Support Network (MSN) through the CTI (Coral Triangle Initiative) Support Partnership or CTSP. Some elements are incorporated in the MPA MEAT to gauge and highlight important threshold indicators and processes that help promote and achieve MPA management effectiveness outputs and outcome.
The MEAT was initiated by the Philippine CTI National Coordinating Committee.
Resources by Subject
Resources by Type
Resources by Countries